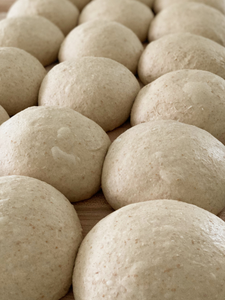 Handmade, artisan pizza dough from our pizza chef, Jess Porter. Have you tried our Pizza Picnics at Appleton Farms yet? Stop by this weekend for a wood-fired pizza featuring fresh Appleton farms produce and get hooked!
Naturally Leavened Pizza Dough: 10 oz. 
Ingredients: water, local wheat flour, local malted barley flour, olive oil, salt. 
The day before you want to use the
dough
, transfer it from the freezer into your refrigerator. An hour before you want to make your
pizza
, pull it from the fridge and let it rest on the counter. Using just enough flour, stretch your
pizza
dough
. Makes one 10"-12"
pizza
.