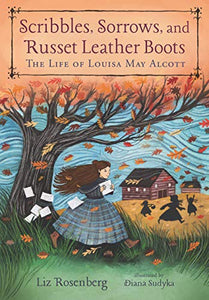 By Liz Rosenberg 
Insightful, exciting, and deeply moving, Liz Rosenberg's distinctive portrait of the author of Little Women reveals some of her life's more complex and daring aspects.

Moody and restless, teenage Louisa longed for freedom. Faced with the expectations of her loving but hapless family, the Alcotts, and of nineteenth-century New England society, Louisa struggled to find her place. On long meandering runs through the woods behind Orchard House, she thought about a future where she could write and think and dream. Undaunted by periods of abject poverty and enriched by friendships with some of the greatest minds of her time and place, she was determined to have this future, no matter the cost.

Drawing on the surviving journals and letters of Louisa and her family and friends, author and poet Liz Rosenberg reunites Louisa May Alcott with her most ardent readers. In this warm and sometimes heartbreaking biography, Rosenberg delves deep into the oftentimes secretive life of a woman who was ahead of her time, imbued with social conscience, and always moving toward her future with a determination that would bring her fame, tragedy, and the realization of her biggest dreams.
Reading age 10-14
Learn about our online store policies here.

---
We currently offer 2 ways to shop with The Trustees online:
1. Order online & shipped to you: Select "Ship" as the delivery method at checkout. All orders are sent via USPS Priority Mail and you will receive an email with tracking information as soon as your order ships. Please Note: This is the only way to order items from multiple properties.
2. Order online & pick-up in-person: Select "Pick-Up" as the delivery method at checkout. Your order will be ready for pick-up at the location listed. You will receive an email or text when your order is ready for pick-up. Please Note: If you have multiple items from multiple properties, you will not be able to select "Pick-Up".