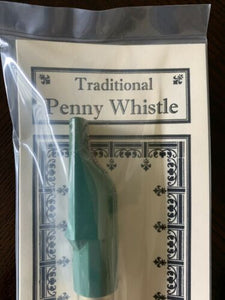 The penny whistle, or tin whistle, is an easy to play portable instrument long associated with traditional American folk music.  Long before it gained popularity in the New World, the penny whistle was played by musicians all over Europe.  It was so named because street performers used to get a penny for playing to passers by.  Playing instructions and fingering chart included.  Penny Whistle in D is made of brass.
Learn about our online store policies here.

---
We currently offer 2 ways to shop with The Trustees online:
1. Order online & shipped to you: Select "Ship" as the delivery method at checkout. All orders are sent via USPS Priority Mail and you will receive an email with tracking information as soon as your order ships. Please Note: This is the only way to order items from multiple properties.
2. Order online & pick-up in-person: Select "Pick-Up" as the delivery method at checkout. Your order will be ready for pick-up at the location listed. You will receive an email or text when your order is ready for pick-up. Please Note: If you have multiple items from multiple properties, you will not be able to select "Pick-Up".