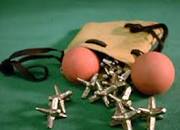 Jacks is a centuries-old game played with seeds, bones, stones, small filled cloth bags or other such materials.  In ancient times, each player would toss five or more of these objects into the air and try to catch them in one hand.  Primitive forms of Jacks were played in prehistoric caves, in ancient Greece and Rome, and, much later, in colonial America.  Set Includes a traditional set of jacks, rubber ball, a wooden ball for historical play, complete instructions, and directions for five Classic Jacks games.  Comes with a leather pouch.  Great stocking-stuffer!
Learn about our online store policies here.

---
We currently offer 2 ways to shop with The Trustees online:
1. Order online & shipped to you: Select "Ship" as the delivery method at checkout. All orders are sent via USPS Priority Mail and you will receive an email with tracking information as soon as your order ships. Please Note: This is the only way to order items from multiple properties.
2. Order online & pick-up in-person: Select "Pick-Up" as the delivery method at checkout. Your order will be ready for pick-up at the location listed. You will receive an email or text when your order is ready for pick-up. Please Note: If you have multiple items from multiple properties, you will not be able to select "Pick-Up".