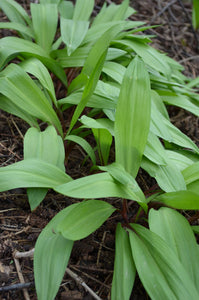 *Please note! Ramps have gone dormant by this point in the year. We still have bulbs for sale but it has no aboveground herbaceous component*
Exposure: Partial Shade - Shade
Water: Medium
Height: 8"
Width: 4"
Bloom: June-July
Notes: Edible bulb and leaves. Foragers seek this plant out in the wild every spring and sell their harvest to supermarkets. Skip the middleman and avoid the disappointment of not finding it in the store and grow your own! Ramps tend to go dormant by mid summer so don't be discouraged if they retreat underground after planting.
*Pots contain 2-3, maybe 4 stems. We recommend letting plants establish for a few years before selectively harvesting*