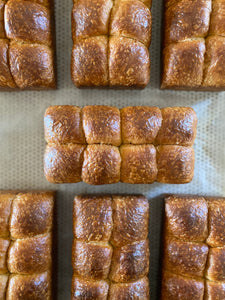 Small batch, handcrafted, naturally leavened brioche made right in the Appleton Farms Kitchen by local baker, Jess Porter. This loaf is made with locally grown soft white & hard red wheat, freshly milled by Ground Up Grain in Hadley, MA. The dough is made using a long fermentation process, which increases flavor, nutrition and shelf life. 


Ingredients: Wheat Flour, Butter, Eggs, Water, Cane Sugar, Egg Yolk, Salt
Freshly baked to order on the morning available for pickup. No discounts or refunds if you are unable to pick up on the day you select.