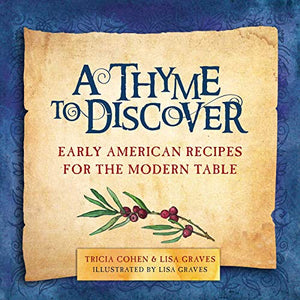 With gorgeous and whimsical hand-drawn illustrations from beginning to end, A Thyme to Discover, spanning the seventeenth and eighteenth centuries, is an illustrated historical cookbook for foodies, history buffs, and Americans alike. Cohen and Graves reimagine old original colonial recipes from pilgrims, presidents, and Native Americans, and modify them to suit modern palates and tastes. Arranged chronologically as the English settlers cooked and ate their way into becoming Americans, these deliciously historical recipes include:The First Thanksgiving, 1621: "Venison over Wild Rice Cakes" and "Pumpkin Pudding
Learn about our online store policies here.

---
We currently offer 2 ways to shop with The Trustees online:
1. Order online & shipped to you: Select "Ship" as the delivery method at checkout. All orders are sent via USPS Priority Mail and you will receive an email with tracking information as soon as your order ships. Please Note: This is the only way to order items from multiple properties.
2. Order online & pick-up in-person: Select "Pick-Up" as the delivery method at checkout. Your order will be ready for pick-up at the location listed. You will receive an email or text when your order is ready for pick-up. Please Note: If you have multiple items from multiple properties, you will not be able to select "Pick-Up".