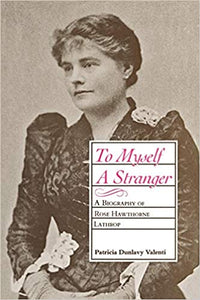 When she was forty-four years old, Rose Hawthorne Lathrop left her comfortable home in New London, Connecticut, and soon thereafter took an apartment on Manhattan's Lower East Side. She ran a newspaper ad inviting indigents dying of cancer to come live with her to be cared for until their death. The journey that led this daughter of one of America's most prominent literary figures to that Lower East Side tenement is the subject of this fascinating and far-reaching biography by Patricia Dunlavy Valenti.

Learn about our online store policies here.

---
We currently offer 2 ways to shop with The Trustees online:
1. Order online & shipped to you: Select "Ship" as the delivery method at checkout. All orders are sent via USPS Priority Mail and you will receive an email with tracking information as soon as your order ships. Please Note: This is the only way to order items from multiple properties.
2. Order online & pick-up in-person: Select "Pick-Up" as the delivery method at checkout. Your order will be ready for pick-up at the location listed. You will receive an email or text when your order is ready for pick-up. Please Note: If you have multiple items from multiple properties, you will not be able to select "Pick-Up".