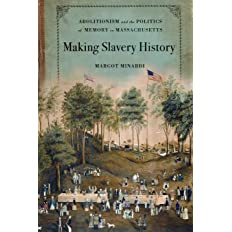 Making Slavery History focuses on how commemorative practices and historical arguments about the American Revolution set the course for antislavery politics in the nineteenth century. The particular setting is a time and place in which people were hyperconscious of their roles as historical actors and narrators: Massachusetts in the period between the Revolution and the Civil War. This book shows how local abolitionists, both black and white, drew on their state's Revolutionary heritage to mobilize public opposition to Southern slavery. When it came to securing the citizenship of free people of color within the Commonwealth, though, black and white abolitionists diverged in terms of how they idealized black historical agency.
Learn about our online store policies here.

---
We currently offer 2 ways to shop with The Trustees online:
1. Order online & shipped to you: Select "Ship" as the delivery method at checkout. All orders are sent via USPS Priority Mail and you will receive an email with tracking information as soon as your order ships. Please Note: This is the only way to order items from multiple properties.
2. Order online & pick-up in-person: Select "Pick-Up" as the delivery method at checkout. Your order will be ready for pick-up at the location listed. You will receive an email or text when your order is ready for pick-up. Please Note: If you have multiple items from multiple properties, you will not be able to select "Pick-Up".