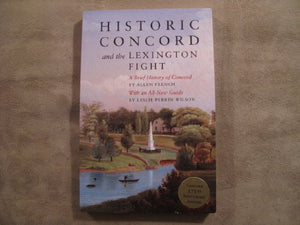 Henry David Thoreau once boasted that he was born "in the most estimable place in all the world."  Historic Concord and the Lexington Fight shows why Concord continues to deserve this reputation.  Taking off from Allen French's original guide and updating its account of local land-marks and history for twenty-first century visitors, Leslie Wilson has drawn on the wealth of information in the archives of the Concord Free Public Library to convey the spirit of a community that has succeeded in preserving the past while living vibrantly in the present.  
Learn about our online store policies here.

---
We currently offer 2 ways to shop with The Trustees online:
1. Order online & shipped to you: Select "Ship" as the delivery method at checkout. All orders are sent via USPS Priority Mail and you will receive an email with tracking information as soon as your order ships. Please Note: This is the only way to order items from multiple properties.
2. Order online & pick-up in-person: Select "Pick-Up" as the delivery method at checkout. Your order will be ready for pick-up at the location listed. You will receive an email or text when your order is ready for pick-up. Please Note: If you have multiple items from multiple properties, you will not be able to select "Pick-Up".