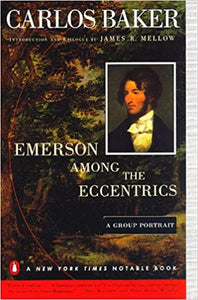 An exhaustively researched, richly detailed biography of Ralph Waldo Emerson and the writers of the American Renaissance--including Hawthorne and Thoreau--traces their relationships, their daily lives, and the era in which they lived. 
An abundance of little-known details and disclosures graces Carlos Baker's last work of literary criticism, bringing to life not only Ralph Waldo Emerson the man, but also a whole cultural milieu known for its brilliance, artistic flowering, and progressive thinking. The portrait of Emerson emerges as if through a mosaic. We see him primarily through the eyes of others--their letters and journal entries--reminding readers that Emerson did not exist in a vacuum. 
Learn about our online store policies here.

---
We currently offer 2 ways to shop with The Trustees online:
1. Order online & shipped to you: Select "Ship" as the delivery method at checkout. All orders are sent via USPS Priority Mail and you will receive an email with tracking information as soon as your order ships. Please Note: This is the only way to order items from multiple properties.
2. Order online & pick-up in-person: Select "Pick-Up" as the delivery method at checkout. Your order will be ready for pick-up at the location listed. You will receive an email or text when your order is ready for pick-up. Please Note: If you have multiple items from multiple properties, you will not be able to select "Pick-Up".