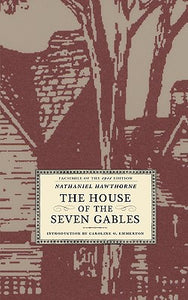 Nathaniel Hawthorne's classic of American literature, written by one of the country's greatest writers.  First published in 1851, the book is set in a mansion not unlike his cousin's many-gabled home in Salem, Massachusetts, which Hawthorne visited regularly.  Caroline O. Emmerton's introductory note to this 1913 edition details the history of the house, from its construction circa 1668 to its purchase and restoration by Emmerton in the early 1900s.  Emmerton founded the House of the Seven Gables Settlement Association in 1910 to serve the growing population of immigrant factory workers flocking to Salem.  To help fund the Settlement House, the mansion opened its doors to the public as a museum in 1910.  This edition is illustrated with 16 photographys of interior and exterior views of the House.
Learn about our online store policies here.

---
We currently offer 2 ways to shop with The Trustees online:
1. Order online & shipped to you: Select "Ship" as the delivery method at checkout. All orders are sent via USPS Priority Mail and you will receive an email with tracking information as soon as your order ships. Please Note: This is the only way to order items from multiple properties.
2. Order online & pick-up in-person: Select "Pick-Up" as the delivery method at checkout. Your order will be ready for pick-up at the location listed. You will receive an email or text when your order is ready for pick-up. Please Note: If you have multiple items from multiple properties, you will not be able to select "Pick-Up".