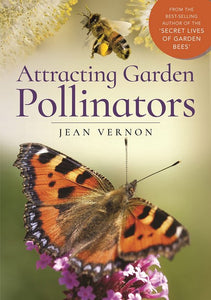 About The Item | Attracting Garden Pollinators is a friendly, accessible, information packed guide to gardening for and with pollinators. This book explores the role that pollinators play and what gardeners can do to help attract and support them. Hardcover, 7" x 10", 216 pages.

About The Author | Jean Vernon is the wildlife columnist for the Royal Horticultural Society Journal – The Garden. She is a contributor to the gardening section of The Daily Telegraph and has written many articles on bees, beekeepers and the needs of garden bees.  It is her mission to unravel, demystify and explain the intricate balance of nature in the garden and to introduce readers to the familiar and unfamiliar bees that live, breed and breathe within the garden habitat.

Shipping & Delivery | Select "Shipping" at checkout. All packages are sent via USPS Priority Mail. You will receive a tracking number as soon as your item ships. You may receive your order in multiple packages. If your order is available for pickup, you will be provided with the option to pickup at checkout. Read all of our store policies here.
Our Approach to Retail | We believe in purchasing with purpose. The Trustees take great care in choosing the products we sell. Our brands and makers meet at least one of the following criteria: Women/LGBTQ+/BIPOC-Owned, Locally Made, Eco-Friendly Materials, Artisan/Small-Batch, Organic/Sustainably Grown, Ethically Manufactured.