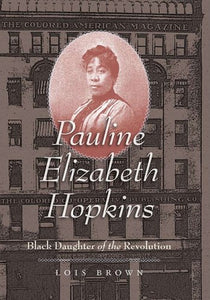 Born into an educated free black family in Portland, Maine, Pauline Elizabeth Hopkins (1859-1930) was a pioneering playwright, journalist, novelist, feminist, and public intellectual, best known for her 1900 novel Contending Forces: A Romance of Negro Life North and South. In this critical biography, Lois Brown documents for the first time Hopkins's early family life and her ancestral connections to eighteenth-century New England, the African slave trade, and twentieth-century race activism in the North.
Brown includes detailed descriptions of Hopkins's earliest known performances as a singer and actress; textual analysis of her major and minor literary works; information about her most influential mentors, colleagues, and professional affiliations; and details of her battles with Booker T. Washington, which ultimately led to her professional demise as a journalist.
Richly grounded in archival sources, Brown's work offers a definitive study that clarifies a number of inconsistencies in earlier writing about Hopkins. Brown re-creates the life of a remarkable woman in the context of her times, revealing Hopkins as the descendant of a family comprising many distinguished individuals, an active participant and supporter of the arts, a woman of stature among professional peers and clubwomen, and a gracious and outspoken crusader for African American rights.
Learn about our online store policies here.

---
We currently offer 2 ways to shop with The Trustees online:
1. Order online & shipped to you: Select "Ship" as the delivery method at checkout. All orders are sent via USPS Priority Mail and you will receive an email with tracking information as soon as your order ships. Please Note: This is the only way to order items from multiple properties.
2. Order online & pick-up in-person: Select "Pick-Up" as the delivery method at checkout. Your order will be ready for pick-up at the location listed. You will receive an email or text when your order is ready for pick-up. Please Note: If you have multiple items from multiple properties, you will not be able to select "Pick-Up".