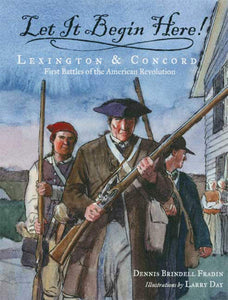 Told in a step-by-step account of the 24 hours leading up to the battles that sparked the American revolution, this picture book is sure to both inform and entertain.

On April 18th at 9:30 p.m. Paul Revere learned that the British Army was marching toward Lexington and Concord to arrest rebel leaders. At 5:20 the next morning, a shot rang out and the American Revolution had begun. In less than 24 hours a rebellious colony would be changed forever.
Learn about our online store policies here.

---
We currently offer 2 ways to shop with The Trustees online:
1. Order online & shipped to you: Select "Ship" as the delivery method at checkout. All orders are sent via USPS Priority Mail and you will receive an email with tracking information as soon as your order ships. Please Note: This is the only way to order items from multiple properties.
2. Order online & pick-up in-person: Select "Pick-Up" as the delivery method at checkout. Your order will be ready for pick-up at the location listed. You will receive an email or text when your order is ready for pick-up. Please Note: If you have multiple items from multiple properties, you will not be able to select "Pick-Up".