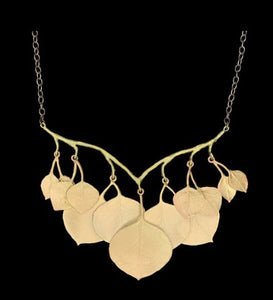 The Round Leaf Eucalyptus Branch Necklace is a striking statement piece with its multiple hanging leaves. The eucalyptus necklace is cast in bronze with 24kt gold plated leaves and hand patinated branches. A number of leaves also feature soft copper highlights. The branch measures 2.98" L x 3.43" W and is on a 17" - !9" adjustable chain.

Native to Australia, the eucalyptus is a genus of over 700 species, ranging from handsome landscape trees to large shrubs. They are not only known for their beauty, but also for their aromatic leaves which are the primary source of eucalyptus oil. The round leaves of the eucalyptus range in both color and shape.

Unique botanical jewelry from Michael Michaud captures the beauty and exquisite detail of nature using soft patinas on bronze accented with pearls, beads and semi-precious stones. Each piece is hand crafted and cast from the actual plant, using a technique similar to lost-wax casting. Handmade in New York.