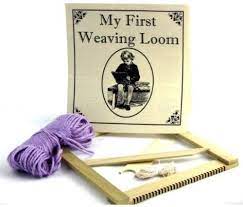 Weaving is one of the oldest methods of constructing fabric.  The first loom was invented by primitive ancestors by using twisted root fibers stretched from tree to tree.  This kit contains a traditional, easy-to-use, hand-held frame loom designed for weaving a variety of projects.  Everything you need to begin weaving, including instructions for warping and completing the projects.  Recommended for anyone eight years and older.  
Learn about our online store policies here.

---
We currently offer 2 ways to shop with The Trustees online:
1. Order online & shipped to you: Select "Ship" as the delivery method at checkout. All orders are sent via USPS Priority Mail and you will receive an email with tracking information as soon as your order ships. Please Note: This is the only way to order items from multiple properties.
2. Order online & pick-up in-person: Select "Pick-Up" as the delivery method at checkout. Your order will be ready for pick-up at the location listed. You will receive an email or text when your order is ready for pick-up. Please Note: If you have multiple items from multiple properties, you will not be able to select "Pick-Up".