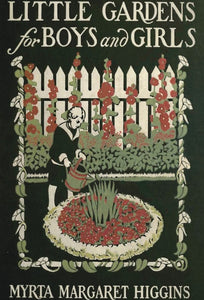 In this 1910 work, Myrta Higgins provides clear and concise instructions to aid young people and their parents in developing and maintaining their own gardens.
Designed as a beginner's introduction to the world of gardening, this book provides simple instructions for beginners on planning, planting, tending, and harvesting gardens. Helpful diagrams and charming black & white photographs illustrate the book.
Myrta Margaret Higgins's personal experience helping hundreds of children learn to appreciate gardening led to her 1910 book Little Gardens for Boys and Girls. It was her goal to not only answer frequently asked questions, but to inspire a lifelong love of gardening.

Paperback
Length: 184 pages
Size: 6" x 9"