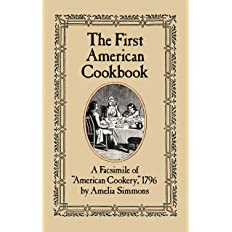 Along with authentic recipes for colonial favorites, a Glossary includes definitions of antiquated cooking terms: pannikin, wallop, frumenty, emptins, and more. And Mary Tolford Wilson's informative Introductory Essay provides the culinary historical background needed to appreciate this important book fully.
Anyone who uses and collects cookbooks will want to have The First American Cookbook. Cultural historians, Americana buffs, and gourmets will find this rare edition filled with interesting recipes and rich in early American flavor.
Learn about our online store policies here.

---
We currently offer 2 ways to shop with The Trustees online:
1. Order online & shipped to you: Select "Ship" as the delivery method at checkout. All orders are sent via USPS Priority Mail and you will receive an email with tracking information as soon as your order ships. Please Note: This is the only way to order items from multiple properties.
2. Order online & pick-up in-person: Select "Pick-Up" as the delivery method at checkout. Your order will be ready for pick-up at the location listed. You will receive an email or text when your order is ready for pick-up. Please Note: If you have multiple items from multiple properties, you will not be able to select "Pick-Up".