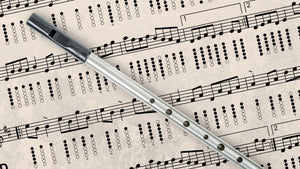 The penny whistle, or tin whistle, is an easy to play portable instrument long associated with traditional American folk music. This book includes a wide variety of musical favorites that can be played on a "D" Penny Whistle, as well as other melody instruments.  A fingering chart for the Penny Whistle is included.  This revised collection includes Barbara Allen, The Salley Gardens. LaVolta, Haste to the Wedding, A Fig for A Kiss, and more.  For children for and up and adults.
Learn about our online store policies here.

---
We currently offer 2 ways to shop with The Trustees online:
1. Order online & shipped to you: Select "Ship" as the delivery method at checkout. All orders are sent via USPS Priority Mail and you will receive an email with tracking information as soon as your order ships. Please Note: This is the only way to order items from multiple properties.
2. Order online & pick-up in-person: Select "Pick-Up" as the delivery method at checkout. Your order will be ready for pick-up at the location listed. You will receive an email or text when your order is ready for pick-up. Please Note: If you have multiple items from multiple properties, you will not be able to select "Pick-Up".