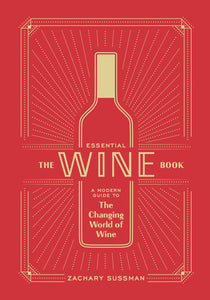 The Essential Wine Book
Vendor

Penguin Random House

Sale price

$20.00

Regular price
Adding product to your cart
A field guide to the new world of wine, featuring an overview of today's most exciting regions and easy-to-use advice on properly tasting wine, discovering under-the-radar gems, and finding the perfect bottle for any occasion.

Highlighting wines from old world regions such as France, Italy, Spain, and Germany to new world wines from the United States, Australia, New Zealand, Chile, and more, The Essential Wine Book tells you what to drink and why. Beginning with foundational information about how wine is made, how to taste it, and how to understand terroir, wine expert and journalist Zachary Sussman then gives an overview of the most important and interesting wine regions today—both established and still emerging.

For instance, the great French wines of Burgundy and Champagne are already well known, but for affordable bottles you can easily find at your local wine shop, Sussman profiles up-and-coming producers in other regions, including the Jura, Languedoc-Roussillon, and more. In a similar vein, California's Napa Valley has for decades been the source of America's most prestigious wines, but here you'll learn about other areas of the state that are gaining recognition, from Lodi to the Santa Rita Hills.

You'll find user-friendly "just the highlights" notes for each region, as well as recommendations for producers and particular bottles to seek out. Diving deep into what makes each region essential and unique, this comprehensive guides gives new wine drinkers and enthusiasts alike an inside track on modern wine culture.
Use left/right arrows to navigate the slideshow or swipe left/right if using a mobile device