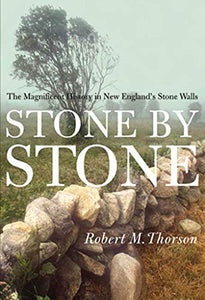 Stone walls tell nothing less than the story of how New England was formed, and in Robert Thorson's hands they live and breathe. "The stone wall is the key that links the natural history and human history of New England," Thorson writes. Millions of years ago, New England's stones belonged to ancient mountains thrust up by prehistoric collisions between continents. During the Ice Age, pieces were cleaved off by glaciers and deposited―often hundreds of miles away―when the glaciers melted. Buried again over centuries by forest and soil buildup, the stones gradually worked their way back to the surface, only to become impediments to the farmers cultivating the land in the eighteenth century, who piled them into "linear landfills," a place to hold the stones. Usually the biggest investment on a farm, often exceeding that of the land and buildings combined, stone walls became a defining element of the Northeast's landscape, and a symbol of the shift to an agricultural economy.
Learn about our online store policies here.

---
We currently offer 2 ways to shop with The Trustees online:
1. Order online & shipped to you: Select "Ship" as the delivery method at checkout. All orders are sent via USPS Priority Mail and you will receive an email with tracking information as soon as your order ships. Please Note: This is the only way to order items from multiple properties.
2. Order online & pick-up in-person: Select "Pick-Up" as the delivery method at checkout. Your order will be ready for pick-up at the location listed. You will receive an email or text when your order is ready for pick-up. Please Note: If you have multiple items from multiple properties, you will not be able to select "Pick-Up".