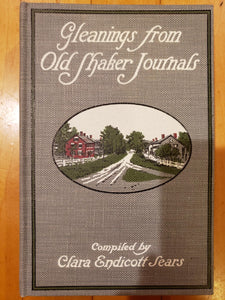 "Gleanings from Old Shaker Journals" was compiled ninety-five long years ago by Clara Endicott Sears, a neighbour of the Shakers. It is not so much personal journals as much more communal descriptions of major events during the period when the Shakers formed or were in their prime during the first half of the nineteenth century.

Most refreshing are the key events of Shaker history, most especially from the period during which Mother Ann Lee led the sect from England to the United States and established its defining characteristics. Especially fascinating is the detail provided here about who Ann Lee and Joseph Meacham were and how widespread persecution of the pacifist Shakers was during the American Revolution, where they were driven from town to town. Most especially discussed is their attempt to settle in the now-famous college town of Harvard, where mobs whipped Shakers in town and the surrounding areas, and Mother Ann Lee already began developing the later Shaker system of government. Although the description of these persecutions and other key events such as their migrations and later spiritual revivals (Kentucky Revival, Mother Ann's Work) is dramatic, it is never excessive and one obtains the impression that the Shakers were being very honest about what was occurring around them.

Another worthwhile feature of "Gleanings from Old Shaker Journals" is viewing the Shakers' unique musical notation believed to have been inspired by Mother Ann. Despite its folk-like character, it is actually not difficult to comprehend or even understand.

All in all, for those interested in this fascinating sect, "Gleanings from Old Shaker Journals" will teach much and even show where many of the pictures and events in later histories of the Shakers originated.
Learn about our online store policies here.

---
We currently offer 2 ways to shop with The Trustees online:
1. Order online & shipped to you: Select "Ship" as the delivery method at checkout. All orders are sent via USPS Priority Mail and you will receive an email with tracking information as soon as your order ships. Please Note: This is the only way to order items from multiple properties.
2. Order online & pick-up in-person: Select "Pick-Up" as the delivery method at checkout. Your order will be ready for pick-up at the location listed. You will receive an email or text when your order is ready for pick-up. Please Note: If you have multiple items from multiple properties, you will not be able to select "Pick-Up".