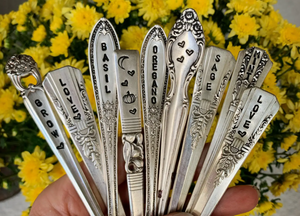 A beautiful accent to indoor potted herbs or outdoor gardens

Vintage silver plate spoon handle up cycled into adorable plant art. Each piece is cleaned of tarnish, flattened by hand and then stamped with each individual letter. Two coats of a black wax are added to make the letters stand out and the piece is cleaned once more to make it shine.
All handles are random and unique and have been filed to remove any rough edges.
The piece will tarnish over time due to the nature of silver plate materials, but it can be easily cleaned, allowing it to be a unique treasure that will last.
Labels available: basil, thyme, tarragon, cilantro, parsley, mint, oregano, rosemary, dill, love, grow, bloom. 
After placing your order please email fkerr@thetrustees.org with your choice of marker label. The pieces come with varying handle patterns and lengths.