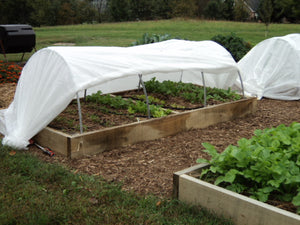 Includes four #10 gauge wire hoops and 10 feet of Reemay cloth row cover. When the wire is inserted 4-6" into the ground it will make hoops about 3 ft wide and 2 ft tall.
 
Reemay is non-woven polypropylene or polyester clothlike material. It transmits 70% of available light, and allows rain and overhead irrigation to reach plants and soil.
Low tunnels with reemay row cover will protect plants from frost damage down to 28F. Will also protect against insects and other pests. Great way to keep strawberries out of sight from birds.