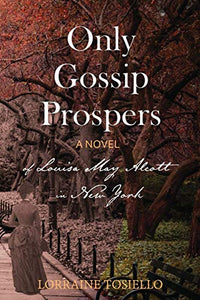 In late 1875 Louisa May Alcott spent a winter in New York City. Her journals give a rough sketch of the people she met, the salons she attended and a few outings that she enjoyed. She intended to stay "until I am tired of it," but left abruptly in mid January. Filled with biographical references to Louisa's family, New Yorkers of the time and Alcott's literary works, Only Gossip Prospers intertwines the real people Louisa met, the actual events of New York City and a host of fictional characters who inhabit a world that Louisa herself would recognize. Written in a style reminiscent of Alcott's juvenile fiction and short adventure stories, the book is part historical fiction, part love letter to the charm of 1870s New York and part biography of Louisa and her contemporaries. Only Gossip Prospers enters the debate that still hovers over Little Women as to what was "real" and what was "made up." There are some twists and surprises, including one that will satisfy the greatest question left unanswered for fans of Little Women: what really happened between Jo and Laurie?
Only Gossip Prospers mashes together fact and fiction to draw a realistic portrait of Louisa May Alcott at the height of her fame.
Learn about our online store policies here.

---
We currently offer 2 ways to shop with The Trustees online:
1. Order online & shipped to you: Select "Ship" as the delivery method at checkout. All orders are sent via USPS Priority Mail and you will receive an email with tracking information as soon as your order ships. Please Note: This is the only way to order items from multiple properties.
2. Order online & pick-up in-person: Select "Pick-Up" as the delivery method at checkout. Your order will be ready for pick-up at the location listed. You will receive an email or text when your order is ready for pick-up. Please Note: If you have multiple items from multiple properties, you will not be able to select "Pick-Up".