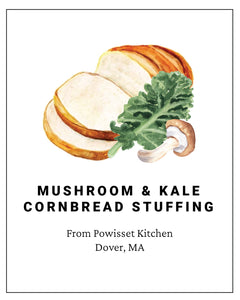 About the Item | Pre-order your Thanksgiving Sides. All sides are a 2 lb. portion and serve 6-8 people. They are packaged cold and come with heating instructions. 

Stuffing Ingredients: corn bread (corn meal, flour, sugar, egg, baking powder, vegetable oil, soy, salt), celery, onion, kale, cremini mushroom, parsley, cream, butter, egg, salt, pepper. Nut free.

Please Note:  You will select your pickup day and time at checkout.

Pickup Location: Powisset Farm Store
37 Powisset St Dover MA 02030
Pickup Date/Time:
Tues 11/21 12PM-6PM
OR
Wed 11/22 10AM-2PM
About the Vendor | Powisset Kitchen is run by our in-house chef, Thi Bowles. We use only the best ingredients from our own Trustees farms and local farms. All items are made to order in advance of pick up to guarantee the freshest flavors.