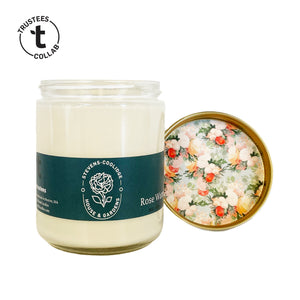 About The Item | We paired up with local candle maker, Noted, to create a rose scented candle inspired by the Rose Garden at Stevens-Coolidge House. 8 oz candle, single cotton wick, roughly 50 hour burn time.

About The Brand | Noted Candles is a women-owned business located in Allston, MA. All candles are soy based and hand-poured by their women-led team. Carefully blended, unique scents to fill your home.
Consume With Care | As an organization that is devoted to the preservation of land and culture, the Trustees take great care in choosing the products we sell. We strive to work with brands that embody at least one of the following values: Locally-Made, Sustainable/Eco-Friendly, Women/BIPOC-Owned, Ethically/Artisan-Made. In shopping with us, your dollars benefit both the Trustees mission and brands we believe in.