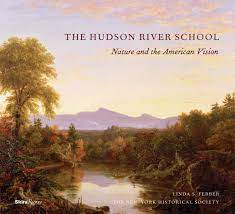 In the mid-1800s, a group of painters based in New York turned their focus to the theme of the natural landscape to demonstrate the beauty of the wilderness. Their work enjoyed a popular national success that no other group of artists has achieved since. This seminal survey of the artists marks the first presentation of the outstanding collection at the New-York Historical Society. It features works by all the greatest artists of the group, including Thomas Cole, Asher Durand, Albert Bierstadt, and Frederic Church. Accompanying a major traveling exhibition, the book is also timed to coincide with the 400th anniversary of Henry Hudson's first voyage up the Hudson River.
Editorial Reviews:
The glorious landscape paintings of the Hudson River Valley—and beyond—which forged America's first artistic movement.

"In the first half of the 19th century, a group of painters working in New York City developed a distinctly American vision of the landscape. Their powerful interpretations of American scenery, which came to be known as the Hudson River School, 'tell the story of how landscape imagery can shape both national and cultural identity,' The book showcases more than a hundred of these images, many in full-page reproduction that convey the original paintings' monumental scale…" ~Luxist.com
 
"…The paintings show how American artists embodied powerful ideas about nature, culture and history—including a belief that a special providence was manifest to Americans in the continent's sublime landscape." ~NewYorkHistoryBlog.com
Learn about our online store policies here.

---
We currently offer 2 ways to shop with The Trustees online:
1. Order online & shipped to you: Select "Ship" as the delivery method at checkout. All orders are sent via USPS Priority Mail and you will receive an email with tracking information as soon as your order ships. Please Note: This is the only way to order items from multiple properties.
2. Order online & pick-up in-person: Select "Pick-Up" as the delivery method at checkout. Your order will be ready for pick-up at the location listed. You will receive an email or text when your order is ready for pick-up. Please Note: If you have multiple items from multiple properties, you will not be able to select "Pick-Up".