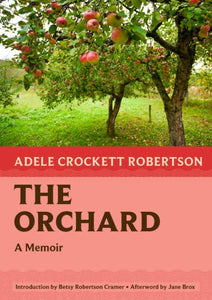 Set in Ipswich in the 1930's, The Orchard is an exquisitely beautiful and poignant memoir of a young woman's single-handed struggle to save her family's apple orchard in the depths of the Great Depression. It tells the story of Adele "Kitty" Robertson, young and energetic, but unprepared by her Radcliffe education for the rigors of apple farming in those bitter times.
Alone at the end of Argilla Road, with only a Great Dane for company, plagued by debts, broken machinery, and killing frosts, Kitty revives the old orchard after years of neglect. Every day is a struggle, but every day she is also rewarded by the beauty of the world and the unexpected kindness of neighbors and hired workers.
John Updike called Robertson's memoir The Orchard  "brave and beautiful...tells us who we are and where we live."
The Orchard is part of Godine Publishing's Nonpareil series: celebrating the joy of discovery with books bound to be classics.
Softcover
Length: 208 pages
Size: 5.25" x 7.5"