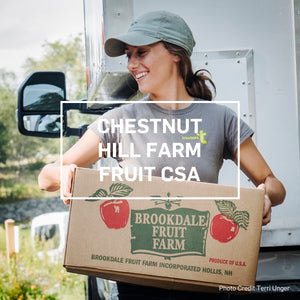 CSA Details: 

Duration:

This CSA has approximately 10 weekly pick-ups between June and October, depending on local fruit yields, and therefore doesn't follow the weekly/bi-weekly pick-up schedule of our vegetable shares. We adjust the amount of fruit we purchase from fruit farmers to ensure that you get the full value of your share by October.
Distribution: You'll be notified when we have fruit for distribution in our weekly newsletter, beginning in June.
Location: You will pick up your share at Chestnut Hill Farm.
We connect people to their local food systems through our Community Supported Agriculture (CSA) programs, providing a way to eat locally and experience a "taste" of farm life. Our Fruit CSA focuses on supporting local fruit farmers and providing the opportunity for our shareholders to experience the varieties of fruit that grow right here in the northeast. Interested in learning more about Trustees Membership? Click here to learn more!