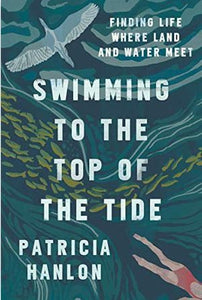 Four seasons of immersion in New England's Great Marsh
The Great Marsh is the largest continuous stretch of salt marsh in New England, extending from Cape Ann to New Hampshire. Patricia Hanlon and her husband built their home and raised their children alongside it. But it is not until the children are grown that they begin to swim the tidal estuary daily. Immersing herself, she experiences, with all her senses in all seasons, the vigor of a place where the two ecosystems of fresh and salt water mix, merge, and create new life.
In Swimming to the Top of the Tide, Hanlon lyrically charts her explorations, at once intimate and scientific. Noting the disruptions caused by human intervention, she bears witness to the vitality of the watersheds, their essential role in the natural world, and the responsibility of those who love them to contribute to their sustainability.
Patricia Hanlon is a visual artist who paints the beautiful ecosystem of New England's Great Marsh and is involved in the watershed organizations of Greater Boston. Swimming to the Top of the Tide is her first book.
"Like Wendell Berry and Rachel Carson, Hanlon is a true poet-ecologist, sharing in exquisitely resonant prose her patient observations of nature's most intimate details. As she and her husband, through summer and snow, swim their local creeks and estuaries, we marvel at the timeless yet fragile terrain of both marshlands and marriage. This is the book to awaken all of us, right now, to how our coastline is changing and what it means for our future." —Julia Glass, author of Three Junes and A House Among the Trees