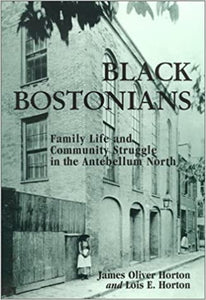 Updated and expanded in this revised edition to reflect twenty years of new research, when published in 1979 Black Bostonians was the first comprehensive social history of an antebellum northern black community.

The Hortons challenged the then widely held view that African Americans in the antebellum urban north were all trapped in "a culture of poverty." Exploring life in black Boston from the eighteenth century to the eve of the Civil War, they combined quantitative and traditional historical methods to reveal the rich fabric of a thriving society, where people from all walks of life organized for mutual aid, survival, and social action, and which was a center of the antislavery movement.
Quality Paperback
Learn about our online store policies here.

---
We currently offer 2 ways to shop with The Trustees online:
1. Order online & shipped to you: Select "Ship" as the delivery method at checkout. All orders are sent via USPS Priority Mail and you will receive an email with tracking information as soon as your order ships. Please Note: This is the only way to order items from multiple properties.
2. Order online & pick-up in-person: Select "Pick-Up" as the delivery method at checkout. Your order will be ready for pick-up at the location listed. You will receive an email or text when your order is ready for pick-up. Please Note: If you have multiple items from multiple properties, you will not be able to select "Pick-Up".