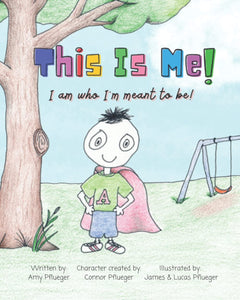 Able is a boy who has autism, inviting you to visit his unique world.  This book explains autism in a special way, to help people understand more about autism, to embrace differences and to raise acceptance.  This story is to impower kids with autism to believe in themselves and reach their full potential no matter what challenges they have; encouraging them to be confident in being who they are - because they are who they're meant to be!  Early reader picture book.  
Learn about our online store policies here.

---
We currently offer 2 ways to shop with The Trustees online:
1. Order online & shipped to you: Select "Ship" as the delivery method at checkout. All orders are sent via USPS Priority Mail and you will receive an email with tracking information as soon as your order ships. Please Note: This is the only way to order items from multiple properties.
2. Order online & pick-up in-person: Select "Pick-Up" as the delivery method at checkout. Your order will be ready for pick-up at the location listed. You will receive an email or text when your order is ready for pick-up. Please Note: If you have multiple items from multiple properties, you will not be able to select "Pick-Up".