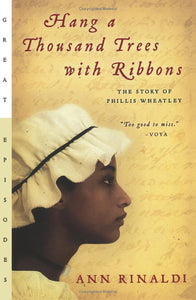 Kidnapped from her home in Senegal and sold as a slave in 1761, a young girl is purchased by the wealthy Wheatley family of Boston.  Phillis Wheatley - as she comes to be known - has an eager mind and knack for learning that leads her on an unusual path for a slave.  When the Wheatley's discover Phillis' talent for writing poetry, they begin to mold her future by having her "perform" for influential guests.  Eventually she is sent to England, where her work is finally published - the first book of poetry by an African American woman.  A beautifully written and researched book suitable for young readers and adults, alike.  
Learn about our online store policies here.

---
We currently offer 2 ways to shop with The Trustees online:
1. Order online & shipped to you: Select "Ship" as the delivery method at checkout. All orders are sent via USPS Priority Mail and you will receive an email with tracking information as soon as your order ships. Please Note: This is the only way to order items from multiple properties.
2. Order online & pick-up in-person: Select "Pick-Up" as the delivery method at checkout. Your order will be ready for pick-up at the location listed. You will receive an email or text when your order is ready for pick-up. Please Note: If you have multiple items from multiple properties, you will not be able to select "Pick-Up".