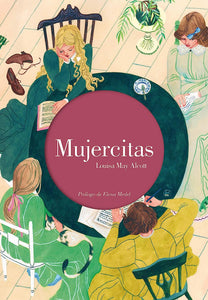 TIMES 2020, los 100 mejores libros juveniles de todos los tiempos

150 aniversario del clásico que ha inspirado a generaciones de mujeres.

La famosísima novela que cuenta las andanzas de las hermanas March, en edición íntegra e ilustrada.

Vuelve a todas las librerías Mujercitas la famosa obra de Louisa May Alcott, basada en el texto íntegro de la primera edición de 1868, con el añadido de muchos párrafos que se suprimieron en las versiones posteriores.

La novela cuenta la historia de las hermanas March, cuatro jovencitas que vivían en un pueblo de Nueva Inglaterra mientras la guerra civil hacía estragos en toda América.

Han pasado casi ciento cincuenta años desde aquel lejano 1868, pero la complicidad de Meg, Beth, Amy y Jo con las demás mujeres no ha muerto. Es más, autoras de la talla de Simone de Beauvoir, Joyce Carol Oates y Patti Smith han sido admiradoras entusiastas de esas Mujercitas que en sus gestos y palabras resumen el espíritu de una época y aún hoy pueden regalarnos unas hermosas horas de lectura.

En esta ocasión el libro ofrece algo más que la lectura, pues la ilustraciones de Rikka Sormunen convierten el libro en un auténtico placer para los sentidos.
Learn about our online store policies here.

---
We currently offer 2 ways to shop with The Trustees online:
1. Order online & shipped to you: Select "Ship" as the delivery method at checkout. All orders are sent via USPS Priority Mail and you will receive an email with tracking information as soon as your order ships. Please Note: This is the only way to order items from multiple properties.
2. Order online & pick-up in-person: Select "Pick-Up" as the delivery method at checkout. Your order will be ready for pick-up at the location listed. You will receive an email or text when your order is ready for pick-up. Please Note: If you have multiple items from multiple properties, you will not be able to select "Pick-Up".