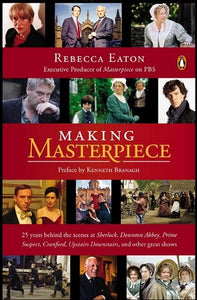 The Emmy Award-winning producer of PBS's Masterpiece Theatre and Mystery! reveals the secrets to Downton Abbey, Sherlock, and its other hit programs.

For more than twenty-five years and counting, Rebecca Eaton has presided over PBS's Masterpiece Theatre, the longest running weekly prime time drama series in American history.

Eaton interviews many of the writers, directors, producers, and other contributors and shares personal anecdotes about her decades-spanning career.  She shares stories about actors and other luminaries such as Alistair Cooke, Maggie Smith, Diana Rigg, Benedict Cumberbatch and Daniel Radcliffe.

Making Masterpiece marks the first time the driving force behind the enduring flagship show reveals all.
Paperback
Length: 320 pages
Size: 6" x 9"