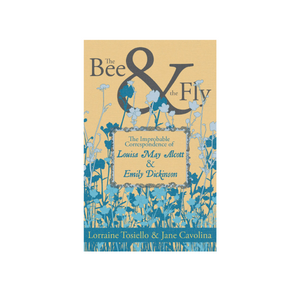 The Bee and the Fly: The Improbable Correspondence of Louisa May Alcott and Emily Dickinson presents a lifelong exchange of unknown letters between Dickinson, the reclusive poet, and Alcott, the most renowned author of the time. What could Alcott say to Dickinson about abolitionism and woman's rights? What might Dickinson reveal to Alcott about her thoughts on marriage and eternity? Researched for over five years and drawing heavily on biographical facts, these luminous letters present a friendship that explores the questions of family responsibilities, women's growing influence in the literary world, the cost of fame and the power of sorority.
Learn about our online store policies here.

---
We currently offer 2 ways to shop with The Trustees online:
1. Order online & shipped to you: Select "Ship" as the delivery method at checkout. All orders are sent via USPS Priority Mail and you will receive an email with tracking information as soon as your order ships. Please Note: This is the only way to order items from multiple properties.
2. Order online & pick-up in-person: Select "Pick-Up" as the delivery method at checkout. Your order will be ready for pick-up at the location listed. You will receive an email or text when your order is ready for pick-up. Please Note: If you have multiple items from multiple properties, you will not be able to select "Pick-Up".